The Beginning of Our Clinic
The Amrita Pet Care Clinic was first started as a small one room clinic way back in the spring of 1998. Since then in the span of just a decade it has expanded to a complete small animal clinic with facilities that are with the best in Delhi, India. All this has happened because of the grace of my Guru Sri Sri Sadguru Mata Amritanandamayi Devi, popularly called AMMA or the Hugging Saint. Today with more than a thousand regular pets on our roll we are quite well established as one of the leading clinics in East Delhi.
Yet we know that we have miles to go before we rest, the mission is only partially complete. When we started off the main aim was to make pet care pleasurable and affordable to all owners. A pet is a great stress reliever and has been proven by medical science to cure lifestyle ailments like blood pressure etc. After all who does not know of the pleasure got by having a pet receive us at the front door after a hectic day at work!!!
And last but not the least we are not in the race to be the number one clinic. At least we do not aim to have the largest number of patients daily. We have always wanted to have Quality rather than Quantity, or have fewer cases and to resolve them satisfactorily rather than have a packed clinic and unsatisfied clients!!! So don't expect too much of a rush at our end.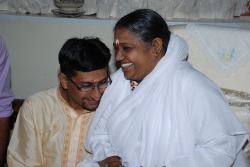 Dr Gautam Unny has been a practising Veterinarian since 1992 when he was a student in Chennai. At that time he was fortunate to be taken under the wings of Dr Sridhar and Dr. Sangaran eminent pet practitioners at Annanagar. He learned the fine nuances of pet care at that stage. After passing out in 1997 he was fortunate to work at a leading pet clinic in South Delhi. After 6 months, AMMA his Guru instructed him to start his own clinic and he has been practising on his own since then. Today he has a setup that caters to the needs of a large population of pets across Delhi.
He considers the day AMMA stepped in to his clinic on the 15th of March 1998 and started his work as the greatest day in his life. He considers it to be the turning point of his professional career. He is and will always be indebted to his Guru for this gesture of Hers.
The satisfaction of establishing this practice lies in the ever increasing client base. We have always believed that a satisfied client is the best source of advertisement. The ?Word of mouth publicity? we get is the best compliment our clients could give us and we are obliged to them for this.
We have recently (2011) started a new new grooming unit, dental unit and physiotherapy center to cater to the needs of our clients. For the benefit of our clients we have also introduced in-house X ray, ECG ( electrocardiogram) and ultrasound facilities. By next year we want to get inhalant gas anesthesia and also plan on a laser surgical unit and endoscopy.
Dr Gautam Unny B.V.Sc, M.I.S.V.S.
Registration number: DVC 465, IVC 2562.
Veterinarians Oath
Being admitted to the profession of veterinary medicine, I solemnly swear to use my scientific knowledge and skills for the benefit of society through the protection of animal health, the relief of animal suffering, the conservation of livestock resources, the promotion of public health and the advancement of medical knowledge. I will practice my profession conscientiously, with dignity and in keeping with the principles of veterinary medical ethics. I accept as a lifelong obligation the continual improvement of my professional knowledge and competence.